Adoption Home Studies, Court Evaluations, & Case Management Services in North Alabama
T.H.E. Social Work Services, LLC was founded by Kathie L. Butler, LCSW, PIP, to provide services to families in North Alabama. Quick response to requests for services, creating a working relationship that is stress free, and delivering your service in a timely, sensitive manner are important goals for the Services, LLC.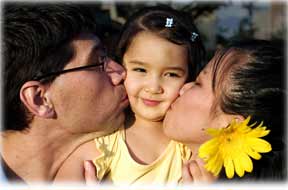 Adoption Home Studies in North Alabama
Both domestic and international (including those that are Hague-certified) adoption home studies are completed in a timely, thorough fashion so that they meet state, national, and foreign requirements.
Learn more about Alabama adoptions, home studies, and what to expect during the home study process. Review our Alabama Adoption Home Study Checklist.
Child Custody Court Evaluations in North Alabama
Sometimes courts seek more information than can be obtained through testimony. An investigation and analysis of the health, safety, welfare, and best interests of a child with regard to disputed custody and visitation issues are conducted through personal, in-home contact with parents and collateral contacts. Testimony can be provided.
Case Management Services in North Alabama
Many times elderly adults live some distance from their adult children or they donít have a viable support network. When their needs change and support is needed for them to remain in their own home as long as possible, Case Management services can be helpful. After a thorough assessment is done involving all of the significant family/support members in looking at medical, financial, social, housing, and personal needs; a service plan is developed and implemented to coordinate needed services that will allow as much independence as possible, assure safety, and improve quality of life.
Owner, Kathie Butler, has been involved in providing services to children and adults for the last 30 years. This extensive experience enables her to provide complete, whole services to you that are designed to meet your specific needs. She is a Licensed Certified Social Worker, the highest level of certification available in Alabama. Based on her years of experience, she is licensed to practice independently in the state of Alabama (PIP).
She is located in Huntsville, AL and offers prompt, professional, and friendly service to all North Alabama counties, including Morgan, Limestone, Lawrence, Cullman, and Lauderdale.